Make Writing Easier with Content Design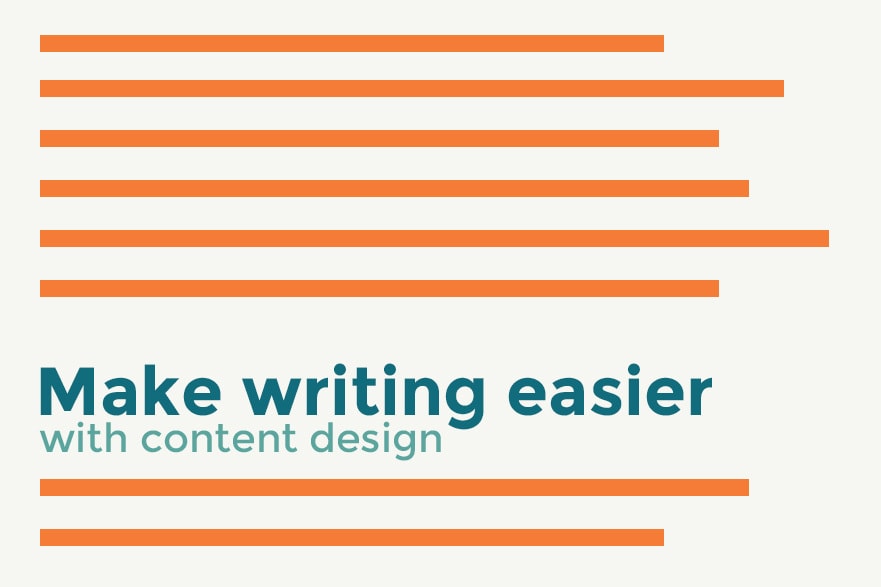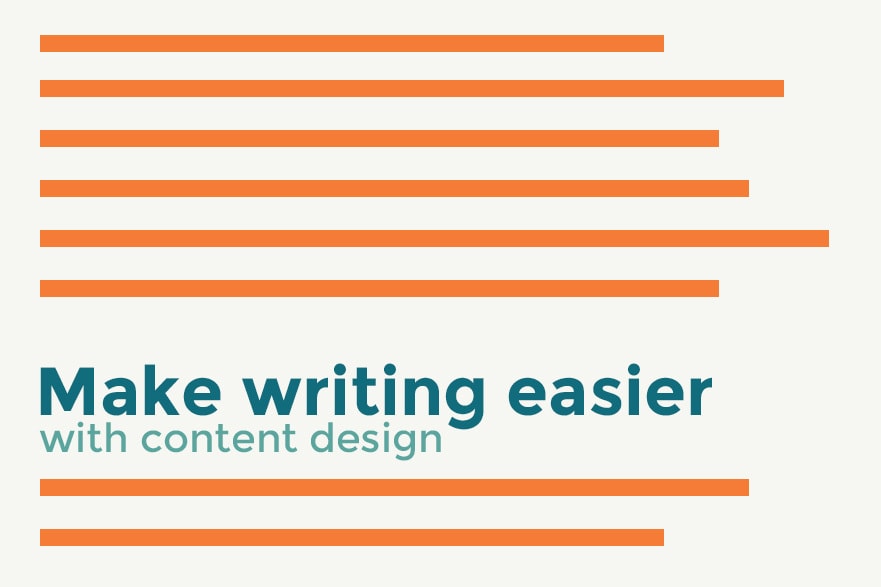 Writing and design are as much art as they are science. Because of this, they can both seem harder to approach – but we don't think that should be the case. Sure, you may not have a steady hand to draw with, or a sense for colour, but that's all visual.
Writing isn't the same animal – especially writing for your business, and there's no reason to be scared of it if you take an artful approach.
In Visual Design
Humans have spent a lot of time, centuries in fact, coming to an understanding of the elements of art – such as composition, repetition, consistency, movement, and more.
We can see many of these elements when looking at the designs of most marketing materials and branding pieces. Everything from your company's logo, to wordmarks, to colour schemes use bits and pieces of well understood principles of design to function properly.
In writing forms
It's not hard to see how the principles of design can apply to text content – in fact, applying these principles can make writing a lot easier than you'd think.
Consistency is often thought of as repetition – and it is, but certainly not the kind of keyword repetition and stuffing you might think of it as. Not surprisingly, those very elements of art used in formal analysis are tightly similar to the kinds of things that make text content easier to read and more valuable.
If you've been reading our blog for any length of time, you might have noticed some things about how we write it. Paragraphs are mostly the same length; we use <h3> and <h2> tags to separate important changes of material, or key points to remember; in a given quarter of the year we also try to stick to a certain proportion of posts on certain topics.
This consistency, the re-use of certain elements, isn't by chance. It's that way by design, because we've spent time internally discussing what we want the blog to sound like – and what topics we want to approach with it.
Using an agreed form, and covering certain angles, reduces production time and keeps us producing new material for a much longer period. We could be writing novels, but we don't. Because that's not what our blog's for.
How you can set a pace for your content strategy that reduces stress, and encourages artful consistency:
Let's look back at those principles of design (the link's a cheat sheet) again, and see how we can apply them to our work of creating content for digital marketing and beyond.
Editorial calendars will help you keep addressing the balance between each topic you need to cover in text content.
Promote your content, with attention to the most important pieces. Create emphasis by way of this promotion, to draw people in.
Use tools like series of posts, lists, chapters, etc. This provides a sense of movement, of growth within your writing.
Draw clear lines for what kinds of topics need to go in which media. Set an easy to see pattern among the kinds of content you address; technical documentation works best as PDF documents, tutorials can function as videos, audio, or blog posts, and product features work best as pages most often. Let your visitors predict the content by the form it takes, and vice versa.
Set a small list of topics to cover on your blog, and other serialized media. Cover those topics from many different angles. If it feels like repetition, but you're still saying new things every time, you're doing it right.
Focus on how much content you create within each topic and channel, and make it all fit together. The amount of content you create, and the proportion that content takes up in concert with other topics of forms, becomes an important part of drawing your visitors through your online presence.
Foster a consistent tone in specific areas. Your blog should have a voice different from your pages, your tweets should be different as well – but they do need to be consistent internal to the channel they're in. Finding the right rhythm for each channel is important.
Create variety in your content, and within each piece of content. Notice how this post moved from paragraphs to a list? This works with changes in format, changes in text style, including images, and more. Shake it up, without letting it fall apart.
Work to make your content readable by multiple means. Start this post again, reading only the headlines and bolded text. If we've done our job correctly, it all sticks together, whether you read the whole article, or skim the called-out content. This helps your reader, as it fosters a sense of harmony, of unity within your work.
Most of making art just comes down to… Well, making art.
If you're feeling intimidated, don't be. Everyone who wants to practice a given art has to start somewhere. For one person, that may be formal education. For others, intense personal study. Some simply learn best by doing. The fact remains that, while the learning portion may never end, the doing of creating content needs to start somewhere.
What do you want to write about?


Source: Hello BLOG