Is Digital Marketing For Startups Necessary?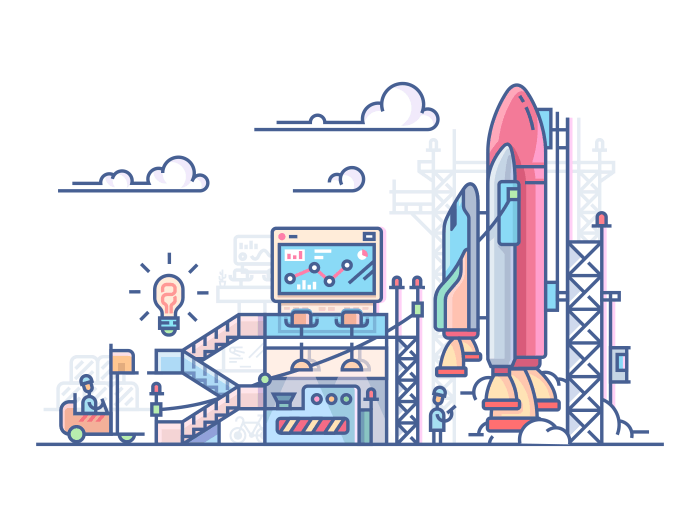 There may be a few rare exceptions, but the vast majority of businesses launched today will need to use digital marketing to succeed. Now more than ever, people are engaging with brands online. Digital marketing for startups and everyone is simply meeting your target audience where they are.
So, the question isn't whether or not you need digital marketing. Instead, savvy entrepreneurs should focus on creating a digital marketing strategy that works for them. This means understanding the overall benefits of online marketing, establishing goals and metrics, and creating and executing a marketing plan. Of course, with a startup, you are likely doing this on a lean budget with a limited team.
UNDERSTANDING THE BENEFITS OF A GOOD DIGITAL MARKETING CAMPAIGN
It's important that you understand the benefits of a good online marketing effort. This will help you to communicate that value to your team, and to get buy-in from all of the stakeholders involved. Digital marketing is cost-effective. It's an excellent vehicle for developing deeper, more personal relationships with your customers. You can use digital marketing to target all customer segments at every stage of the sales funnel. It helps to drive traffic to your website, builds a sense of authority and thought leadership, and is one of the more measurable forms of marketing available to you. Finally, online marketing has a low barrier to entry. While a company certainly can hire a digital agency, most can also begin a workable digital marketing campaign internally.
WHERE TO START: UNDERSTANDING DIGITAL MARKETING
Digital marketing is the combination of all marketing techniques that a business can carry out using any sort of connected. It includes:
Social Media Marketing: Writing social media posts to share on various platforms. Promoting blog content on social media. Engaging in conversations with followers and influencers on social media channels.
Search Engine Optimization: Optimizing your website in order for it to be favored by search engines when people search for relevant keywords. Writing content that is optimized for those keywords. Working to earn backlinks, and implementing other strategies to improve search engine results.
Blogging: Writing blog content or articles to build thought leadership, increase your subscriber list, and establish trust and authority.
Email Marketing: Using email as a means to reach out to your target audience directly.
Use of Messenger Apps: Reaching out via social media messaging apps and SMS.
PPC Advertising: Using paid advertising on Google, Facebook, and other platforms.
Content Marketing: Creating and curating content to boost sales, social media engagement, and traffic.
It can involve a variety of apps, tools, devices, and social media platforms.
DIGITAL MARKETING STRATEGY NEEDS CLEARLY DEFINED GOALS AND A WAY TO MEASURE THEM
It can help to apply the SMART principles of goal setting when you start a digital marketing campaign. This means that the goals you set should be Specific, Measurable, Achievable, Relevant, and Timely. In other words, your goals should be clear, there should be a way to measure them, you should be able to achieve them with your current resources, and you should be able to complete your work towards that goal in a timely manner.
Let's imagine that you want to increase the amount of engagement you get on social media. That's a pretty wide-ranging goal. So, it's not really specific. So, you narrow that down. You want to get more shares overall for your original content. You focus on Facebook for the time being. You decide to use Facebook analytics to measure your results. You want to see an increase of more than 10% over a three-month period.
EACH DIGITAL MARKETING GOAL NEEDS A PLAN OF ACTION
It's not enough to have a well-defined goal. You have to develop action steps to bring those goals to fruition. Going back to the goal of increasing Facebook shares, that might look something like this:
Produce a larger volume of better quality content to post and link on Facebook.
Purchase Canva or other tools for creating visual content.
Hire an online content provider like EssaysDeluxe.com
Increase the volume of content posted to Facebook.
Use a content calendar to plan posts with varied topics.
Encourage team members from all business areas to submit posts for approval.
Encourage followers to share content.
Add a standard call to action to original posts.
Reach out to influencers before publishing posts to Facebook.
Add share buttons to original content to be shared on Facebook.
By creating SMART goals, and establishing a clear plan of action, startups can implement a digital marketing strategy that they can build on over time.
Final Thoughts
It's difficult to imagine a business remaining competitive without a solid digital marketing strategy. Online marketing is cost-effective, boosts conversions, and allows businesses to foster better customer relationships. To succeed, it's imperative that teams understand the concepts behind digital marketing, then create workable strategies that are supported by goals and action steps.
About the author
Lori is a Master in Anthropology, passionate about psychology and advertisement. She is currently a writer at WOWGrade.net and a contributor at Kimca.info. The texts she writes are always informative, based on qualitative research, but nevertheless pleasant to read.