How You Can Reward Your Repeat Visitors
Many retailers put so much effort into acquiring new customers, that they forget or run out of resources to focus on retaining their existing customers and encouraging to come back. This can be hurtful to a business, considering that, in the United States, 40% of revenue comes from repeat purchases which represent 8% of all visitors—according to results from Forrester research.
Also, trying to sell to an existing customer is much cheaper than trying to sell to a new potential one. They already know your brand and are comfortable buying from your store, which makes it easier to sell. On the other hand, new customers need repeated exposure to a brand just to consider making their first purchase. They have to gain trust in the brand and its products to convert in order to keep coming back to your site.
Repeat customers can also become your best salespeople. If they really like your eCommerce store, they can refer it to their family and friends, which results in additional exposure for your business. For these reasons, and many more, rewarding repeat customers pays off. It's key to create a continuous and cost-effective selling engine for your store. Discover new ways to reward your repeat visitors in this article.
Offer a Referral Program
These type of programs works by having customers refer an eCommerce store to others in exchange for a benefit such as a discount code. Usually, customers refer the people closest to them, which often happen to be family members or friends.
Those types of referrals work especially well because people put more value on referrals coming from friends and family than others they may not know. Actually, people are 4 times more likely to buy when referred by a friend. Even if the referrals don't make an immediate purchase, they will become aware of your brand and possibly make a purchase in the future.
The best type of referral programs are the ones that offer double-sided rewards. In other words, the person referring the product and the referral both get rewarded. In this way, it's a win-win situation for both parties, and no one feels like they are missing out on the deal.
For instance, adventure travel site The Clymb offers a $10 reward for you and a friend for a referral: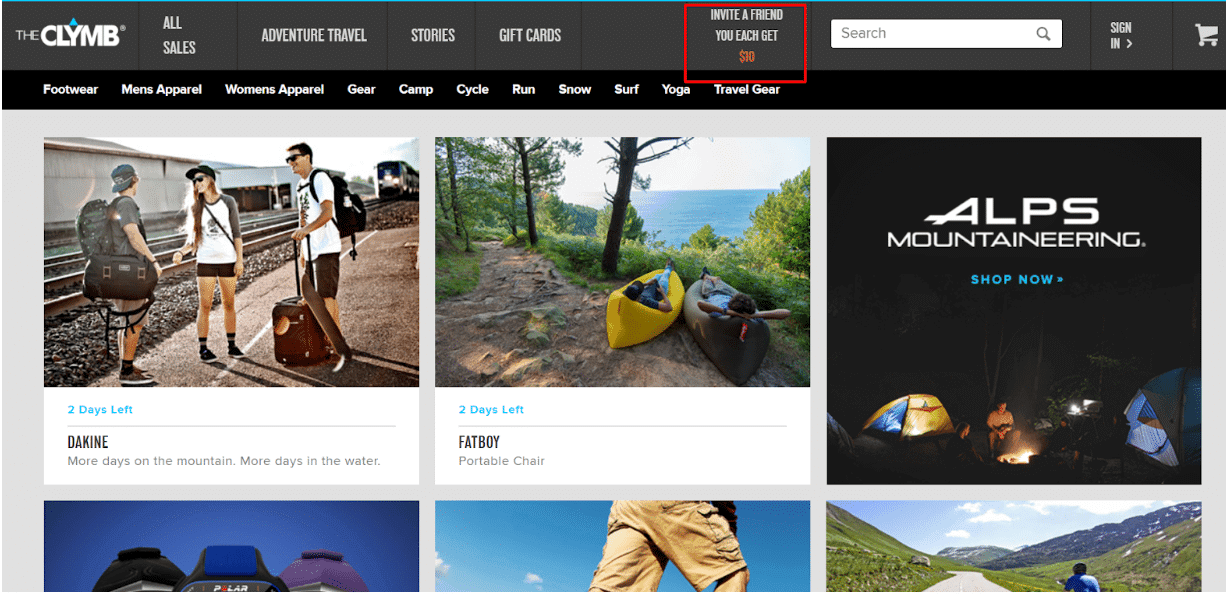 The rewards don't always have to be cash; other retailers offer discount codes and even free merchandise in exchange for a referral. If you have an eCommerce platform like Shopify, you can easily install a referral app like ReferralCandy to send and track all referrals. Note that this type of program is different from an affiliate one where third party sites have links to redirect traffic to a specific eCommerce site.
OFFER A POINT REWARDS LOYALTY PROGRAMS
These types of programs incentivize customers to repeat purchases and accumulate points to get discounts and other perks. For instance, Victoria's Secret has a reward program linked to their Angel card that offers 1 point for every $1 spent on their store. Then, customers get special rewards based on the number of points they earn. The higher the points, the better rewards they can get.
These programs work best when the rewards system is easy to follow as the one above—1 point for every $1—simple! If the rules are too hard to understand, you may discourage customers from repeating their purchase. Another great way to establish a loyalty program is by tiers. So, customers get different status levels based on their purchases.
For instance, they can be gold, silver, or platinum members based on the number of points they have earned. Their tier status can give them access to special deals according to their status level. This is often seen in credit card providers.
You can also find this tier in marketplaces where sellers and buyers can be classified by their tier status. For example, Alibaba gives sellers with good ratings a gold supplier status, which gives them a competitive advantage over other sellers.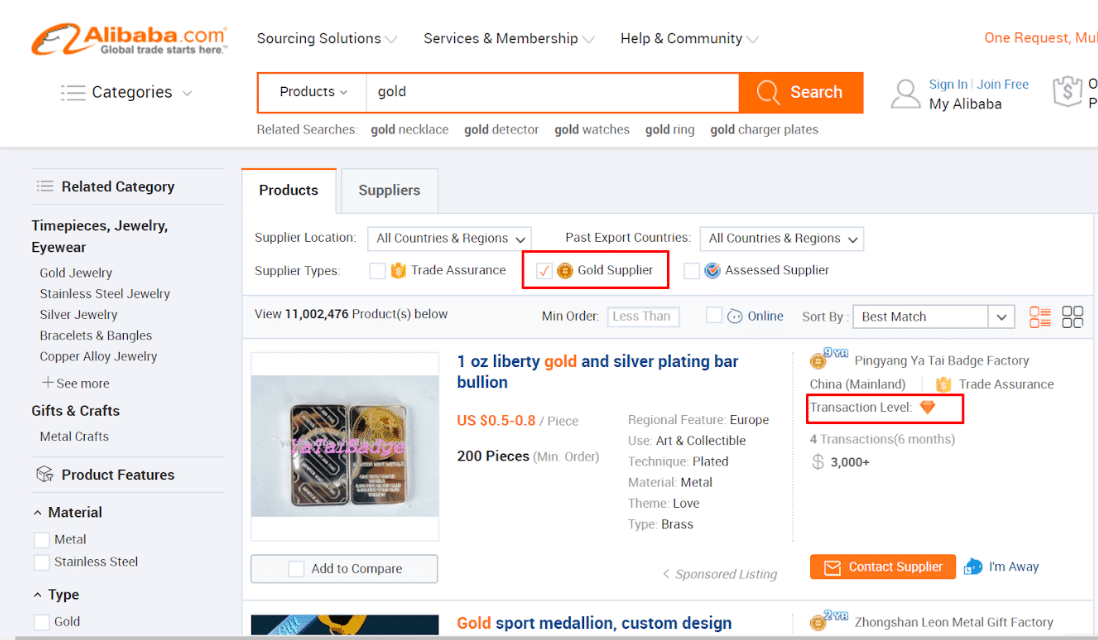 Buyers can also get their own tier status based on their buyer rating and the number of products they purchase.
PROVIDE SPECIAL PERKS TO LOYAL CUSTOMERS
There's no better way to feel like a real VIP than getting access to something that no one else has access to. Reward your customers with special perks to encourage them to help them feel special and encourage them to come back to make a purchase.
One of the special perks you can offer is free shipping. This benefit can be part of a paid membership club that customers can join at will. This is what Amazon did with its world renowned Amazon Prime program that offers customers free shipping on all orders and, even better, it includes faster 2-day shipping.
Early access to new products or special promotions is another great way to reward loyal customers with special perks. It's a privilege they can get above all customers, and it gives them a chance to shop for items that no one else has.
To implement a program like this one, make sure to segment your email list to select frequent buyers or use an app. Then, you can run email marketing campaigns with different messages tailored to respective email segments. For instance, you can also tease your regular subscribers to join the club by telling them they could have been part of x special perks if they sign up for a special membership or buy x amount of products-it depends on your rules.
Rewarding customers can make all the difference in your retention rate and sales. It not only makes customers feel appreciated and special, it also helps to remind them to come back to the store in a friendly, not overly sales-like manner.
Whichever method you use, make sure to analyze and track your program's performance. Only by gathering this data, you will be able to succeed in providing benefits that your customers actually desire. Sending surveys asking for their feedback and ideas is also a great way to let them know they are heard and to get useful feedback to implement in your eCommerce store.
Author Bio
Author Ron Dod is the Co-Founder and Chief Marketing Officer at Visiture. He works to help eCommerce business owners and marketing professionals navigate through the search marketing landscape.