What Should You Spend On Your Marketing Budget?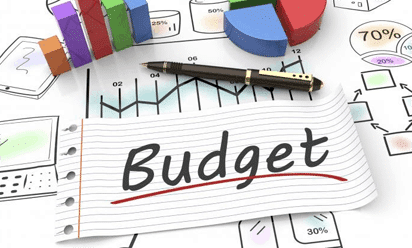 Everyone knows that marketing is a crucial component to turning a profit from one year to the next. The problem many business owners encounter is trying to figure out how large their marketing budget should be. While they want don't want to skimp on marketing, they also don't want to spend too much on marketing either.
One of the critical things you need to keep in mind is that your marketing budget isn't stagnant. At least once a year, you need to sit down and consider the performance of your marketing strategies and decide if your budget is still on track, or if it's time to reevaluate how much your spending on marketing.
HOW YOUR MARKETING BUDGET SHOULD COMPARE TO YOUR BOTTOM LINE
The general rule of thumb is that the amount you spend on marketing should be based on your current revenue and your current business goals. If you're happy with your current revenue, your marketing budget should equal 5%-7% of your existing sales. If your business is in a state of growth, you'll want to bump up your marketing budget, so it's 7%-10% of your current revenue. If you hope to experience a surge in sales, it's in your best interest to devote 10%-15% of your revenue to marketing efforts.
FOCUS ON ROI MARKETING
When exploring how big or small your marketing budget should be, focus your attention on ROI marketing. ROI marketing allows you to analyze how if you're getting the maximum bang for your marketing dollar from each marketing channel you utilize. When you get a solid ROI on your marketing, you'll not only see a nice surge in sales, but you'll also gain several high-value, long-term customers.
The most important factors in ROI marketing are:
Creating lifetime customers
Target acquisition cost
The simplest way to calculate ROI marketing is taking the gross profit generated from products sold during a specific marketing campaign, subtracting the amount you invested in the marketing campaign, and then divide the result by that same investment amount. This system works great when you're trying to figure out the ROI for a particular marketing campaign, but measuring the ROI for specific marketing channels is more complicated and often involves the use of different tools that help measure the conversion rate of particular channels.
Once you've determined which marketing channels and methods garner the best marketing ROI, you'll know how to streamline future marketing procedures.
The Ideal Annual Marketing Budget for a Small Business or Startup
(1-15 EMPLOYEES)
When you're preparing to promote your small business, you're going to want to dedicate quite a bit of your financial and time resources to marketing. The problem is knowing how much is enough when there isn't a gross revenue to benchmark your marketing expenses
Marketing experts suggest that small businesses can market themselves for about $2,000, but have a better chance of long-term survival with a $6,000 marketing budget.
As a start-up, dedicate your marketing budget to things like:
The creation of a good, attractive logo
Printing high-quality business cards
Setting up social media sites for your business and sponsoring some posts so they can start attracting your target market
Setting up an automated email marketing account with an email marketing subscription site such as MailChimp, ConstantContact, or Aweber
Attending local, pertinent trade shows
Once your small business starts generating revenue, you can start measuring the marketing ROI and come up with a substantial marketing budget.
When it comes to determining how much you should spend on your marketing, it's important to remember that marketing is never stagnant. Every few months you need to sit down and evaluate your marketing ROI and current business goals. It's also important to be willing to dedicate a portion of your marketing budget to try out new marketing channels.
The Ideal Annual Marketing Budget for Mid-Size Businesses
(15-74 EMPLOYEES)
Once you've established yourself in your industry and you've grown in size to where you have a dedicated team for each aspect of your business, it's time to start looking at ways to effectively market yourself competitively. The tactics used by a small business or startup won't be nearly as useful once you've reached this size, and it becomes time to invest more in your marketing budget to continue being competitive.
The next step to pushing your marketing efforts and being considered a true competitor in your industry is to invest in your online marketing. To effectively tackle the online marketing approach, the typical budget would be anywhere from $15,000 – $25,000. This would include:
Basic website design with an attractive landing page and additional page templates
Basic on-page SEO implementation
Social media integration
A reliable website hosting service that works with you to manage your website and service needs
Once your business starts addressing their online marketing needs and implementing the necessary tools to create an active online presence, there is an opportunity to collect an enormous amount of data from your customers and visitors. This data will give you insights as to visitor behaviour, customer tendencies, and detailed website analytics, all of which can be used to optimize your online marketing efforts further and target specific groups of potential customers that are most likely to lead to conversion.
The Ideal Annual Marketing Budget for Large Businesses
(75+ EMPLOYEES)
At this point, you've already created an online presence in your industry that rivals your competitors. You've effectively Used all of your data collection, you've created customer personas, you've determined the most profitable customer groups, and you've made sure your website has the best possible user experience. What's next at this point?
Using these strategies, it's only beneficial once a visitor gets to your page with pre-existing interest. The hard part is attracting those potential customers that don't know about you yet. The overall goal of this step is to increase organic visitor growth and increase conversion rates.
An appropriate budget that ensures these issues will get addressed is anywhere from $25,000 – $50,000 annually. This budget includes everything from the previous budget categories, as well as important pieces of your strategy such as:
Advanced analytics that shows where visitors and leads come from, and how these visitors interact on your website
SEO campaigns that increases your search engine ranking to aid in your organic visitor growth
Marketing automation that improves user experience and minimizes your costs for addressing customers' needs
What's Next?
To keep your online presence competitive and engaging, it requires an investment to ensure your website is not only correctly optimized but also to keep your online strategies current and effective. With the ever-evolving nature of the online marketing field, it is crucial that you are proactive and ensuring that your website is always evolving to keep up with these new trends and standard practices.
When your website gets to a point where you're fully satisfied with its lead generation and conversion optimization abilities, it is essential to create a continuous improvement plan to stay on top of the changes to best practices in the market. This is most financially effective when approached with a monthly retainer that allows for your website design and support team to address all updates and problems in quick promptly while giving you the peace of mind knowing that your monthly expenses for your web-design needs won't fluctuate.
With a monthly support plan from your trusted web-designer, you will have the luxury of always knowing your SEO is working to the best of its ability, and your website updates and support will be taken care for in a timely manner, to ensures your website won't break or go offline, ultimately costing you money in lost sales.
It may be difficult to wrap your head around all of the moving parts involved in a successful online marketing strategy. The industry changes daily with new standards and technology constantly being introduced to the field. In today's business landscape, your online presence can make or break your business. With it being such an important tool for success, do you still think you should take a cheaper but ineffective approach that may or may not increase your sales potential, or should you properly invest in your future success and have the peace of mind knowing that your online presence is 100% optimized to not only increase your organic growth, but most importantly, increase your conversion rates and profit potential?
Resources:
https://www.entrepreneur.com/article/243790
https://businesscollective.com/how-much-should-you-invest-in-marketing/index.html
https://business.linkedin.com/marketing-solutions/blog/best-practices–marketing-metrics/2019/what-is-roi-in-marketing–clarifying-key-acronyms