4 Web Design Trends to Add to Your Website This 2021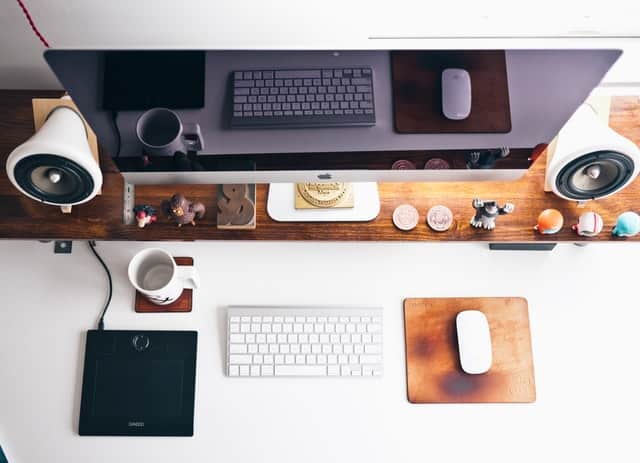 Web design lets you create a good impression on your visitors. Since it is ever-evolving, you may have a hard time staying ahead of the competition, especially if you are unfamiliar with the technical aspects of web design. To keep your pages looking modern, here are some web design trends for this year that you can consider incorporating into your website:
Abstract art compositions
Minimalist designs, especially those with geometric primitives like squares and circles, have been on trend for years because of their clean and sleek appearance. But they can come across as restrictive or overly simple. Because of this, web designers are using more complex, sprawling art compositions that exude creativity and freedom this year. You can do the same by
adding abstract art arrangements to your website. By having vibrant colours on your pages, you can create a website that feels inviting, expressive, and alive.
Parallax animation
Web-based animation trends year after year, so this 2021, web animations are getting more complex. For instance, web designers create a parallax effect by separating page elements into foreground and background extremes.
This technique uses an optical illusion when objects near the visitors move faster than those farther away. It mimics what we see in everyday life, making this effect appear realistic and even surreal. Through the depth created using foreground and background, it offers a more immersive experience to the users. Therefore, visitors are drawn into browsing the website for longer as they navigate through the page.
Neumorphism
Neumorphism has been all the rage in UI design since 2020. This style is a successor to skeuomorphism, a design approach that combines familiar, outdated materials with current designs. It was popular in the early 2010s as it simplified icons and colours and made them more uniform, easily identifiable, and less realistic.
Neumorphism has designs that use selective drop shadows and semi-flat colours, which creates an effect that resembles digital embossing or debossing. Buttons, search bars, and text boxes have stylized realism. It provides the tactile experience that was long lost, especially during the years when the flat design was popular. As a result, this trend establishes a deeper connection between the user and the design they are interacting with.
Colour schemes that are easier on the eyes
Many users experience eye strain after staring at their screens for countless hours. Because of this, web designers now prefer using colour schemes that are easier on the eyes. For instance, many apps and websites nowadays have a dark mode feature to counteract the overwhelming whiteness among many screen-based media.
Other colour palettes now being used more are light pinks, pastel blues, warm browns, and wholesome greens. These hues induce relaxation and calmness, which promote comfort and accessibility rather than innovation.
Conclusion
To sum it all up, this year's web design trends share a common theme, which is seeking realism by combining digital elements with the ordinary. It also emphasizes that websites have become an integral part of everyone's daily lives. When trying to incorporate these trends into your website, remember those listed in this guide and partner only with a trusted website design company like ours.
If you're looking for an agency specializing in web design in Calgary, then you've come to the right place. At Hello Digital Marketing, we can build you a well-designed website based on your needs and preferences. We also offer digital marketing, conversational marketing, and more. Contact us to learn more about how we can help you!